Description
Brand Name: 

UFQ U Fly Quiet
Great sound quality!
Great ANR effect!!
The product is the result of the diligent work and continuous improvements of the UFQ R&D team over the years.
In spite of this, it is lighter in weight, more comfortable, and
The Bluetooth aviation headsets of several major brands were compared.
There is no doubt that UFQ Bluetooth aviation headsets (adapters) will meet your expectations
In the event that the batteries are low, the headset will still function as an ANR aviation headset
Even if the batteries are off, the headset will continue to function as a PNR aviation headset.
By choosing UFQ, our clients are guaranteed a high return on investment and the highest level of value for their investment!
1. This is one of the lightest Bluetooth ANR aviation headsets on the market (weighing only 0.5 pounds).
2. Advanced reverse noise cancelling technology reduces background noise by as much as 90%.
3. This product is extremely comfortable, making it ideal for long flights.
4. Noise-canceling electric microphone with amplifier.
5. A high-fidelity speaker system ensures crystal-clear communication.
6. With the upgraded sound processing chip, you will receive superior audio quality.
7. Using Bluetooth 5.0, you can connect two devices simultaneously
8. Provides wireless access to your Bluetooth cell phone and any music source in the cockpit
9. Intercoms are compatible with mono and stereo signals
10. Voice prompts from a young girl
11. Design that is NEW and modern
12. For precise control of each speaker's volume, dual volume controls are provided
13. Three Types of Audio Priority Modes
In the event of an incoming transmission, Bluetooth and Aux are muted.
and resumes after the transmission ends.
MIX: Aux and Bluetooth continue to play with the transmission.
OFF: Only transmissions are heard, Bluetooth and Aux are muted
14. External power source input using USB type C, bypassing batteries for power
As a result, you can use it together with a power bank, so you can use it for a very long time
15. Auto-shutdown capability
16. Voice prompt and low battery indicator
17. When a Bluetooth connection is made, a phone can display the battery level (not all cellphones are compatible with this feature).
18. Using two AA batteries, the device will operate continuously for 20 to 25 hours
19. The Bluetooth volume control features a previous/next song function.
When connected to an AUX line, this control can also control the volume of the AUX
20. Battery power is not consumed when the device is turned off
(Unlike some competitors' headsets, this one does not consume battery power when powered off.)
21. Auxiliary input jack of 3.5 mm
Each headset is supplied with a free premium quality headset bag.
There are different connectors available for this item: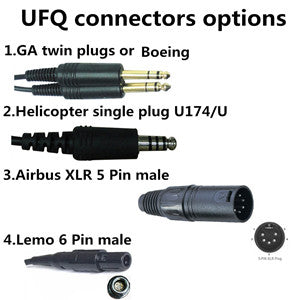 Aviation Headset Connectors UFQ
1) GA twin plugs or Boing connector
2) Helicopter U174/U single plug
3) Airbus 5 pin XLR male
4) Lemo 6 pin male
Usually, GA twin plugs as default
Why choose UFQ A7 aviation headset? 
https://www.youtube.com/watch?v=bQlHsMofuSU
UFQ A7 Unboxing vedio see below 
Test: UFQ L1, A28 & A7 | Bose Aviation Headset X | Rugged Air RA200
https://www.youtube.com/watch?v=UO3zYtTaBRQ